Colden Drystone: Climbing Castel Monte
Performance: 7 November, 12.00
Exhibition: 7 November – 22 May
Palazzo Collicola Arti Visive, Spoleto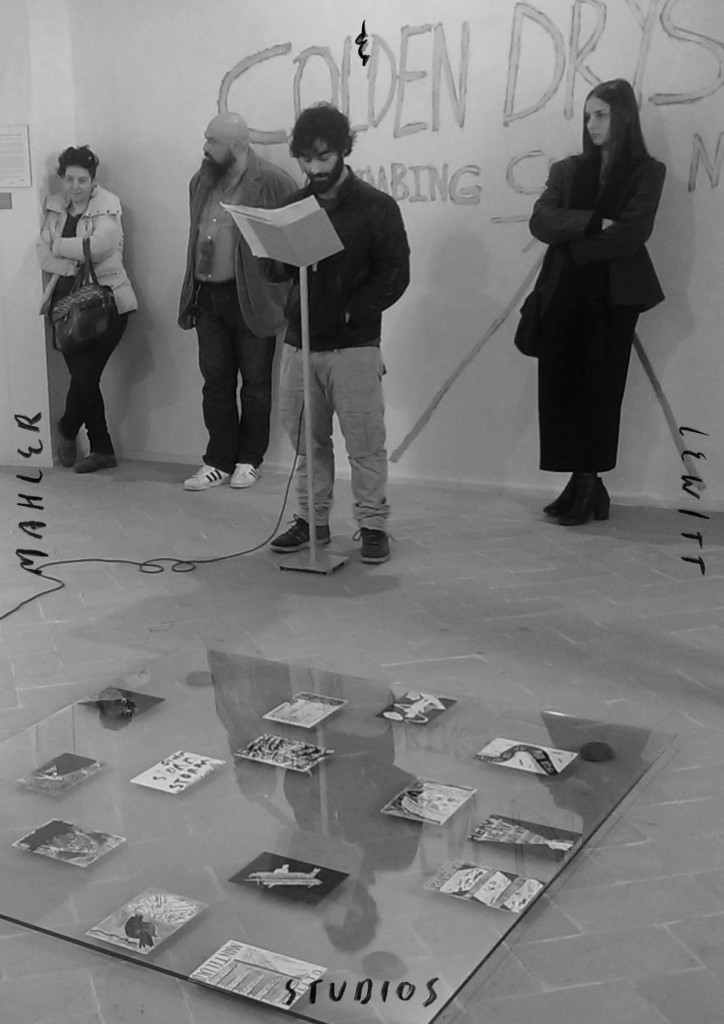 The gallery of modern art in Spoleto, Palazzo Collicola Arti Visive, invited the Mahler & LeWitt Studios to participate in the group exhibition Spoleto Contemporanea.
We invited Tom Barnett/Colden Drystone, a previous Anna Mahler award winner, to create a site specific performance and installation, unpacking a film and publication he had made whilst on residency in 2013.
Climbing Castel Monte follows Colden Drystone who, clad in a white neoprene, future- age suit, makes a journey from Spoleto to the summit of a nearby mountain called Castel Monte. Along the way he plays in an FA Cup Final, creates his own theatre production and sings David Bowie and returns to a childhood memory of William Walton, contemplating as he does so the pleasures and anxieties of human creativity. Colden completed the walk from Spoleto to Castel Monte in September 2013; a journey which was initially documented as a film before being developed into an illustrated book. It now finds expression as an installation and performance incorporating the original narrative, gouache on paper illustrations and a gold painted stone – a replica of the stone which he deposited at the peak of Castel Monte where it it currently resides.
Colden Drystone (Tom Barnett), born London, England 1984, studied painting at Chelsea college of Art and Design. Through music, performance, drawing, painting, video and installation his practice broadly investigates creativity and its relationship with human behavior. He is represented by Hannah Barry Gallery, London which hosted his most recent solo exhibition The Beautiful Game. Recent performances took place at Sluice Art Fair, London, Rogue Studios, Manchester, Site Festival, Stroud, Girton College, Cambridge, the Victoria & Albert museum, London, Bold Tendencies ,London at the closing event for the Copeland Book Market 2013 and at the opening night of Art Brussels 2013, Brussels.
He was Artist in Residence (2013-14) at Girton College, Cambridge where he realised a major new installation entitled Believing in Time Travel, devised and performed Kick Off – a monumental outdoor performance piece and recreated «The Thing is in Tension with the Idea of the Thing» – an engraved dry-stone wall that now resides permanently in the grounds of Girton College. .