Lina Hermsdorf
BONA DEA
Festival di Spoleto, 27 June – 12 July, 2021
Palazzo Collicola, Galleria d'Arte Moderna Giovanni Carandente, Spoleto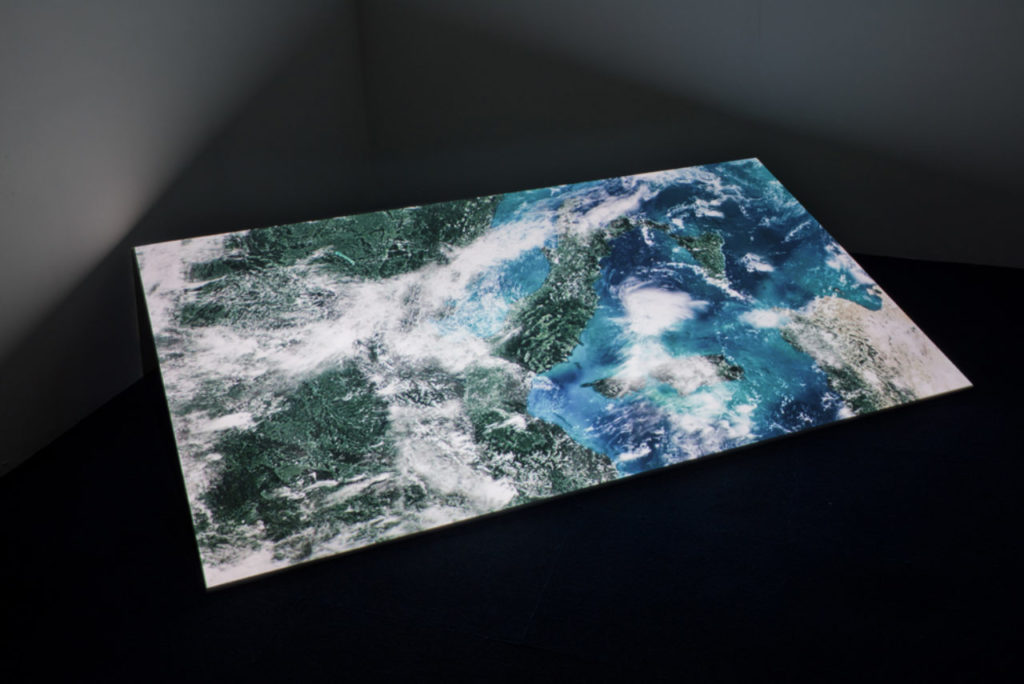 Saturday 25 – Monday 28 June, 10.30 – 13.00 and 15.30 – 19.00
Wednesday 30 June to Monday 5 July, 10.30 – 13.00 and 15.30 – 19.00
Wednesday 7 – Sunday 11 July, 10.30 – 13.00 and 15.30 – 19.00
On the COLLICOLA ARENA big screen: Saturday 10 July, 22.15.
For the 64th edition of the Festival dei Due Mondi, Lina Hermsdorf presented her video installation Bona Dea, which she developed during residencies at the Mahler & LeWitt Studios in 2018 and 2019.
The work is centered around a little-known sacred forest near Spoleto, dedicated to the ancient Roman goddess Bona Dea, a deity venerated exclusively by women. During the festivals of Bona Dea, women were allowed to drink strong wine and make blood sacrifices, practices otherwise forbidden by Roman culture. Knowledge of the cult is scarce as it has predominantly been passed on by male writers, who were barred from the rituals.
Consisting of real-time rendered, drone and google earth studio footage the video piece captures an aerial view of the forest, travelling from the soil to the atmosphere and back again, creating a mesmerising loop.
This cyclical movement, which draws on the progressions of the natural world and history, is also reflected in the biographic details of the film's narrator, Paola Dionisotti (born 1953), as she alludes to various stages of female life: from puberty and fertility to menopause.
In Hermsdorf's own words, "In Bona Dea the cult becomes a source for thinking about exclusion, notions of excess and considers ancient sites as, uncannily, promising."
Bona Dea has been kindly supported by Arts Council England, Mahler & LeWitt Studios and the Exhibitions Hub in the Department of Art, Goldsmiths College. The project initially emerged out of the 'Artist's Books Residency Program' at the Mahler & LeWitt Studios in 2018.
Visual Effects: Ifor Ashton & Luke Doyle
Performer/Narrator: Paola Dionisotti
Lina Hermsdorf (b.1985, Germany) lives and works in London. Often mediated through performances and text-based installations, her works unfold narrative threads which explore how power structures, technology and natural components interact with one another. She regularly incorporates the biographical data of her performers and the history of the site into her pieces. Hermsdorf studied Theatre at the University in Giessen and Fine Arts at the Städelschule in Frankfurt. Recent shows include 'Being A Vertebrate' at Kunstverein Dortmund (2020),  'Keeping Time' (2019) Cappella del Barolo, Italy' 'Doing things with words', Kunstverein Braunschweig (2018); 'State 0', Flat Time House (2017), Vantage Point, Künstlerhaus Bremen (2017), Immortalismus, Kunstverein Freiburg (2017), among other venues. She was also part of the Symposium 'Women in Conceptual Art' at the Chelsea College of Arts (2018).