Lonnie Holley
Artista in Residenza in partnership con
Edel Assanti e Festival dei Due Mondi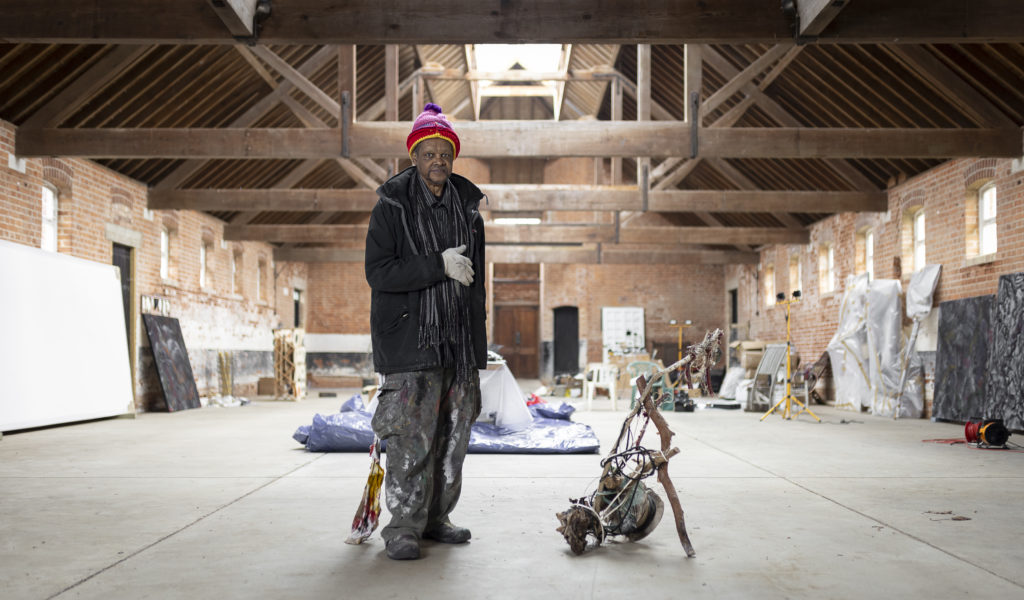 Lonnie Holley fa arte dal 1979, dedito a una pratica di creatività improvvisativa che abbraccia pittura, scultura, cinema e musica. Adattando materiali trovati, le opere di Holley trasmettono storie che sono sia autobiografiche che collettive. La sua opera affronta temi universali come le relazioni precarie dell'umanità con il mondo naturale e la tecnologia, accanto a storie specificamente americane e personali, attraversando gli effetti residui dell'era di Jim Crow, i trionfi del movimento per i diritti civili e le continue lotte con false narrazioni intorno mobilità di classe e razza.
Durante la sua residenza Holley si esibirà con Nelson Patton al Festival dei Due Mondi (Auditorium della Stella, Spoleto, 24 e 25 giugno – maggiori informazioni qui) e ospiteremo un concerto da solista presso i Mahler & LeWitt Studios l'8 luglio. L'8 luglio, presso i Mahler & LeWitt Studios, si terrà anche un evento Open Studio, nel quale verrà condiviso il lavoro della residenza di Holley (pittura e scultura).
Lonnie Holley (nato a Birmingham, AL, 1950) vive e lavora ad Atlanta, in Georgia. Le mostre e gli spettacoli nel 2023 includono: Souls Grown Deep, Royal Academy, Londra e Lonnie Holley: If You Really Knew, North Miami (MOCA). Recentemente ha esposto a Dallas Contemporary, Dallas, USA (2022); National Gallery of Art, Washington DC, USA (2022); The Morgan Library & Museum, New York, Stati Uniti (2021); Turner Contemporary, Margate, Regno Unito (2020); Philadelphia Museum of Art, Filadelfia, Stati Uniti (2020); Metropolitan Museum of Art, New York, Stati Uniti (2018); MASS MoCA, North Adams, Stati Uniti (2017); de Young Museum, San Francisco, Stati Uniti (2017); tra molti altri. Il suo lavoro è in numerose collezioni permanenti, tra cui il Metropolitan Museum of Art, New York, NY; Whitney Museum of American Art, New York, New York; Museo d'arte della contea di Los Angeles, Los Angeles, CA; e Smithsonian American Art Museum, Washington, DC Il primo film di Holley, I Snuck Off the Slave Ship, (2019), è stato presentato in anteprima al Sundance Film Festival nel 2019. Artangel ha commissionato il ciclo di canzoni e il film di Holley intitolato The Edge of What nel 2022. Holley ha firmato un contratto a Jagjaguwar, e vive e lavora ad Atlanta, GA, USA.