Allison Katz
b.1980, Montreal, Canada
Detail of a glazed plate by Allison Katz, 2017
Allison Katz is predominantly known as a painter. Whilst exploring playful linkages between text and image, her subjects evolve from intimate life experiences and often have a diaristic quality. Recently she has been making and using ceramics within the context of her painting and during her residency in Spoleto she made use of our kiln.
She worked on a series of plates, extravagantly decorated with glazes, which drew on her studies in the histories of ceramics particular to the region of Umbria. She explains her work in Spoleto in the interview below.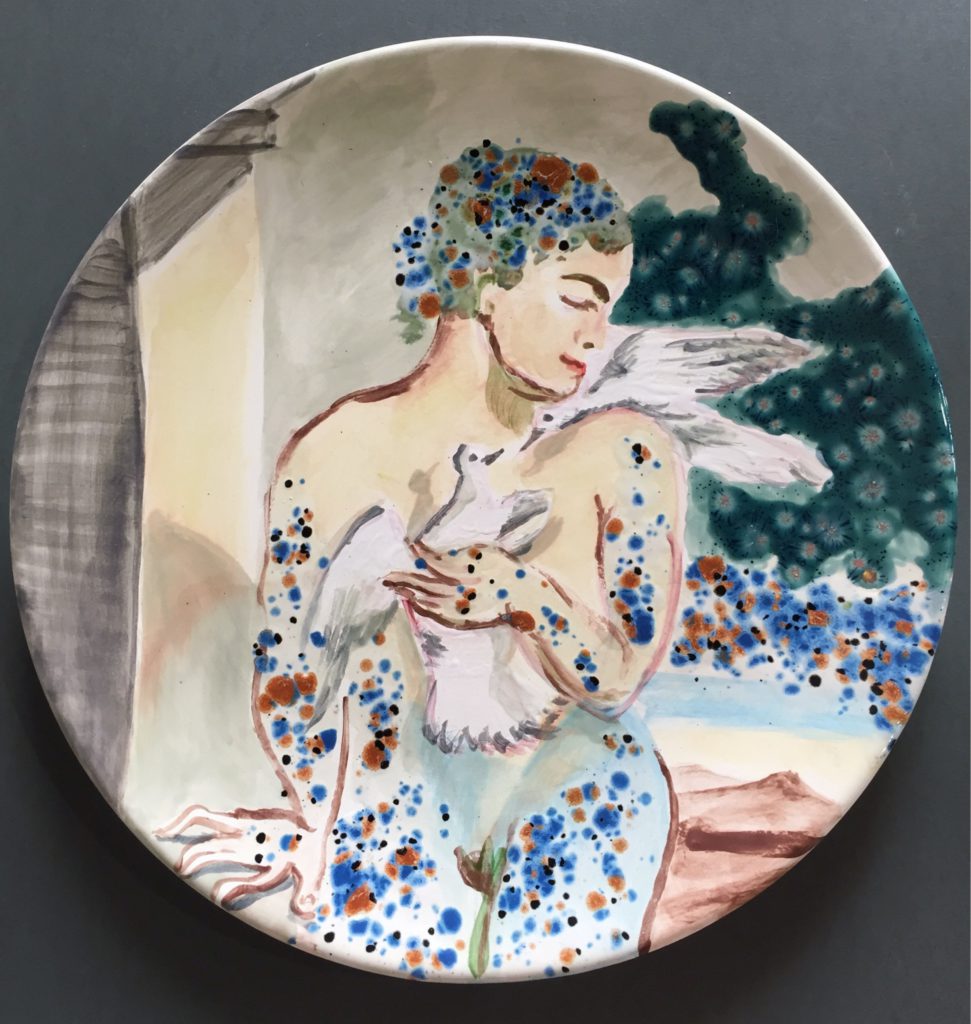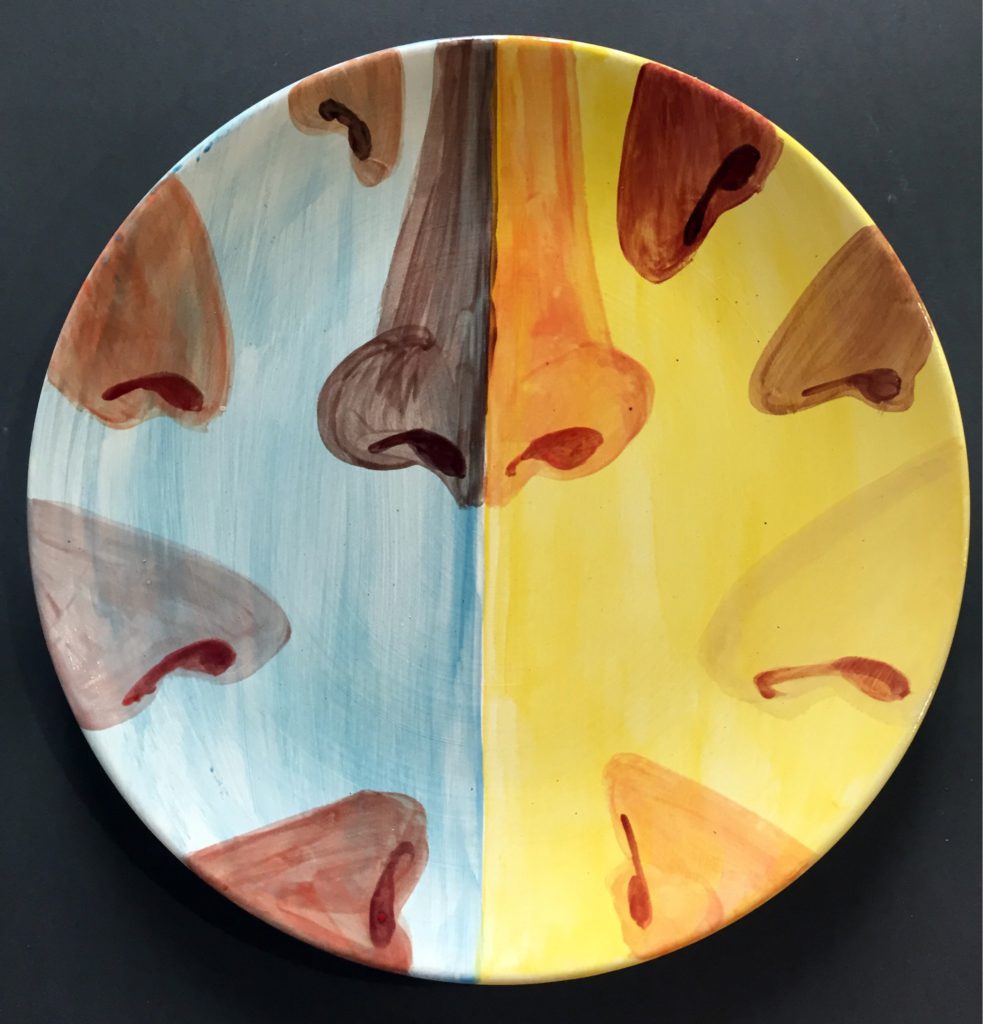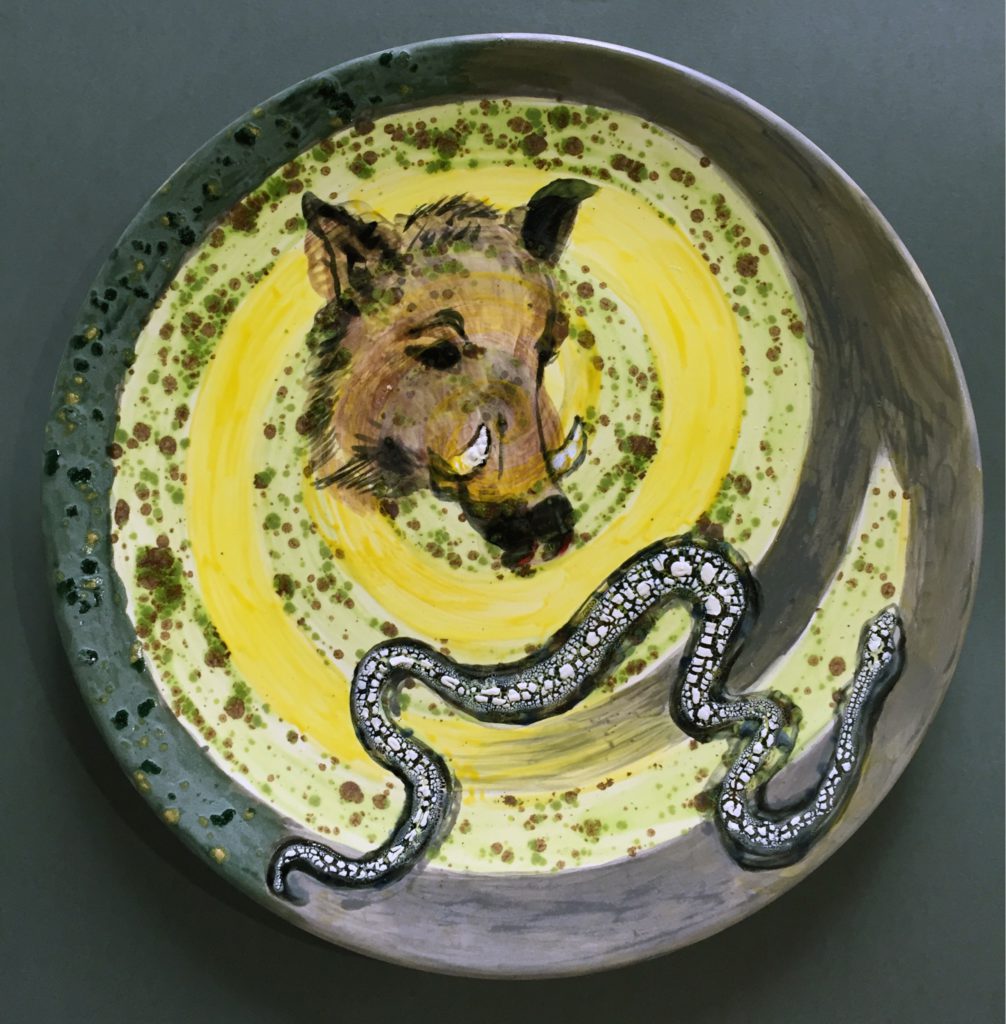 Guy Robertson: You were recently included in an exhibition at Tate St Ives called 'That Continuous Thing: Artists and the Ceramics Studio 1920 – Today', what attracts you to working in ceramic and how did you develop this aspect of your practice whilst in residence at the Mahler & LeWitt Studios?
Allison Katz: Ceramic is, in general, the perfect antidote to the canvas and the screen. The earth is in the stuff. The atmosphere of the residency, and the history of ceramic production in the region, contributed to my focus this summer a great deal. There was a large library of ceramic books and magazines in the studio that I pored through, finding many points of contact with my own interests. It was exciting to think about the ceramic plates I was making as a kind of in-between production; they are neither painting nor drawing, neither canvas nor sculpture. They are vaguely utilitarian, yet remain non-functional. I like these contradictions. I couldn't see myself making large paintings in Spoleto (too routine), nor did I want to sketch (too romantic), so in ceramic I found a new process that combined and yet mistrusted everything.
GR: You predominantly make paintings, oil on canvas. What challenges and opportunities, speaking as a painter, did the process of painting and glazing ceramic offer?
AK: Without exaggeration, glazing is elemental: fire, sand, glass, chance, luck. With oil paint, what you see is what you get; but glazes do not reveal anything about their final effects during the painting phase. The transformation inside the kiln is the point of no return.
GR: What have you learnt from this intensive period of working with ceramic?
AK: Ceramics gripped me with an edgy, obsessive curiosity. I was continually challenged by my own initial sense of disappointment when pieces came out of the kiln, having not been able to control the results, only to have my own taste overturned by what had happened. This feeling of renewal and being at-odds with my own hand was intense. I was captivated by the materiality of the glazes themselves, these alchemical mixtures of glass, metal oxides and clays, especially the ones I found in Deruta, which are extra-reactive, containing crystals that explode and atomise at 1000 degrees.
Even the language of these glazes became a form of inspiration. Their ridiculous and poetic names, titled as if in the midst of transformation, called out to fugitive, ephemeral desires: Dragon's Breath, Northern Lights, Kaboom, Obsidian, Sand Petal…
Now that I am back in my studio in London I can see that certain motifs, which I wouldn't necessarily have introduced into my painting, or that I could not make fit, are finding their way back in after having circulated through my ceramic experiments. Using this unstable technique allowed me to see material and content in a more intertwined, heightened state of connectedness.
GR: Deruta is also the home of La Gioconda, the ceramics workshop which has collaborated with a number of artists including Sol LeWitt, Boetti and Tristano de Robbilant. We are giong to be working with them to produce an Artist's Edition for the Mahler & LeWitt Studios. Are you looking forward to the collaborative aspect, working with La Gioconda?
AK: It was very interesting to see the set-up at La Gioconda; the original artisans are still working there and the majolica technique remains unchanged and challenging — quite a contrast to the way I work, since it requires a very structured sequence of processes. It was impressive to see the control it requires, since I had always assumed it was a much more forgiving and spontaneous method. For example, the way in which the artist must hold the brush is very particular; balancing it across the different coloured areas being careful not to blend them. For this reason I am looking forward to combining some of the consistency and reliability of the craft with my more experimental 'painterly' touch for our collaborative edition.
Allison Katz studied for her BFA at Concordia University in Montreal. She moved to New York and in 2008 gained an MFA from Columbia University. Katz has lived in London since 2013. Her upcoming solo institutional exhibition Diary w/o Dates will open at Oakville Galleries, Ontario, Canada in January 2018, and travel on to the MIT List Visual Arts Centre, Boston in May 2018. Her first monograph will be published in December 2018.