Babatunde Doherty
Artist in Residence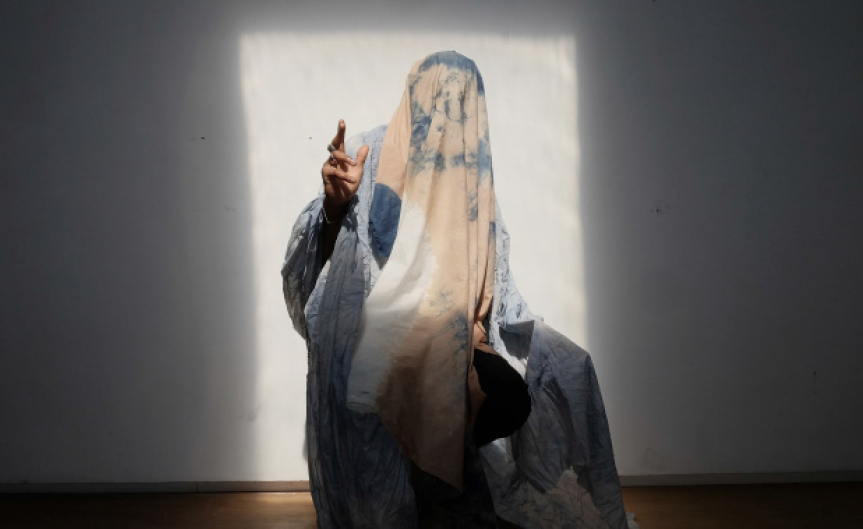 Illustrated here, a performance piece entitled The Crossroad of Being (2018) performed at Giant Steps in London. The work featured paintings and a live performance that explored contemporary understandings of Afro-diasporic identity in relation to spirituality and migration.
Artist website: babatundedoherty.com
Babatunde Doherty (b.1989, USA) is a Nigerian-American multi-disciplinary artist based between London and New York. Doherty works in sound, painting and performance and is interested in the notion of hybridity and its relevance to diasporic and transnational identity. During his residency in Spoleto, he will explore his use of alter-egos in his performances which, in a world of self-commodifying pressure, aim to confront and dislodge our sense of self within the contemporary context.
In 2018 Doherty completed his MFA at Goldsmiths College, London. Recent exhibitions include: Song to the Last Whale on Earth (guest performance with artist Teal Griffin), Assembly Point, London (2019); A dance of scale, group show at Assembly Point, London, (2019); Hip-Hop Post-Mortem (guest performance and exhibition) in 'Out of Eye' group show at Laure Genillard London, curated by Tony Tremlett, (2019); The Crossroads of Being (solo show and panel discussion with Habda Rashid, curator at Whitechapel Gallery and Contemporary African Art Researcher Liese Van der Waat), Giant Steps, Hackney, London, (2018); Final Year MA Degree Show, Goldsmiths, University of London, (2018); Beach Rhythm (with artist Teal Griffin and curator Lucy Cowling), Enclave Projects, London, (2018).