Cevanne Horrocks-Hopayian
Composer in Residence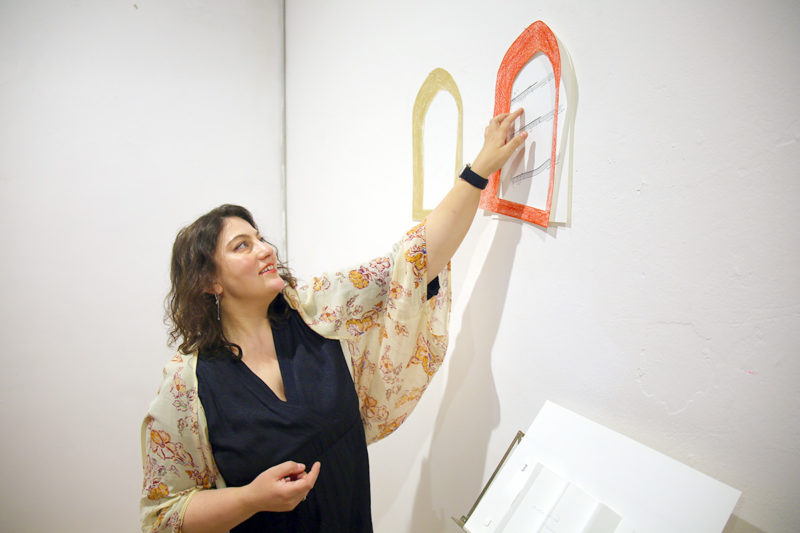 Cevanne Horrocks-Hopayian is an Anglo-Armenian composer and performer. Among her instruments are the harp and self-fabricated sonic garments. Working with a range of ensembles – both acoustic and electronic, Eastern and Western, folk and classical – Cevanne connects diverse sounds with a cohesive sense of lyricism, rhythm and storytelling.
In Spoleto, Cevanne developed new work (both visual and sonic) and rehearsed for an EP and book launch. She worked from the music room in Casa Mahler as well as in the Sol LeWitt studio. At her Open Studio (pictured in the slideshow below) she displayed arched window designs on the walls of her studio; conceived as compositional apertures they bear fragments of birdsong heard in Spoleto. The studio floor became Cevanne's playground, with sketches and notations for new works. These included notes for a multi-day, durational performance involving writing lines of music on incense paper (used in rituals in Armenia): each day a phrase is played and then the music burned. Thereafter, when it is played on subsequent days (when a further phrase is also played and burned, adding to the composition) the music from the previous days must be recounted from memory. Themes of loss and memory – also misremembering – place and migration, recur throughout Cevanne's work.
Biography
Her recent album, Welcome Party (2021), for sinfonia, choir and electronics, was recorded by the London Symphony Orchestra for NMC Recordings. The track Muted Lines (written for saxophonist Trish Clowes) won a British Composer Award. The album responds to lived environments – topography, architecture, and interiors – in particular 575 Wandsworth Road, London, the home of the late Kenyan-born polymath Khadambi Asalache.
Cevanne is also known for her 'Eye-Music' scores, where visual structures create tactile parameters on sheet music – such as windows sliced through the manuscript, guiding her to write around the notations and lyrics revealed by the aperture. She recently created 'Eye-Music' for a residency at the Handel & Hendrix Museum, London.
Following an Ivors Nomination and a performance at the BBC Proms, her folk/electronica duo 'Crewdson & Cevanne' has created an audio-visual installation to be reflected in the Coventry Canal, in collaboration with artist Jessica Glover, known as Rites For Crossing Water. The music will be released as an EP on Accidental Editions in Spring 2022. The accompanying text will be published in book form by Ludic Rooms. It forms part of a growing collection of Horrocks-Hopayian's 'text scores' (performance instructions without music notation).