Keef Winter
Artist in Residence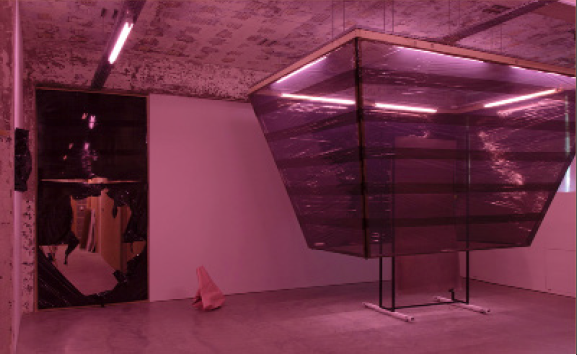 Pictured: In 2018 at Black Tower Projects in London, Keef Winter produced 'Can't Help It', an architectural and aural intervention informed by the conditions of the project space and its heritage as a site of production.
Artist website: keefwinter.com
Keef Winter is a Northern Irish artist currently living and working in London. His interests in sound, art and architecture are explored through an unconventional fusion of performance, sculpture and installation. He says, "I produce music as a sculptor would carve an object". He creates sound using electronics, the reverberation of sheet steel, vocal samples and drumming. He completed a PhD in philosophy and sculpture entitled 'The Handyman Aesthetic' at Ulster University in 2013. He has toured globally as a musician over the last two decades with instrumental band Tracer AMC and thrash-dance band Not Squares. He is currently running a design programme at the University of East London.
Recent presentations include: sky every day, projects + gallery, St. Louis (2019); No Regrets (solo), Galeria Breve, Mexico City (2018); Tax Return (solo), Void Gallery, Derry (2018); Can't Help It (solo), Black Tower Projects, London 2017; Pre-Fix, Unofficial Northern Ireland Pavilion, Sella Del Giardini, Venice (2017); Swimming with Sharks (solo), Galeria Breve, Mexico City (2017); On Becoming Fluid, Hardwick Gallery, Cheltenham (2017); Wysing Polyphonic, Wysing Arts Centre, Cambridge (2016); Sticky Enough, Chalton Gallery, London (2016); Salon Sebastian Monteux, Glasgow International (2016).