Lydia Ourahmane
Artist in Residence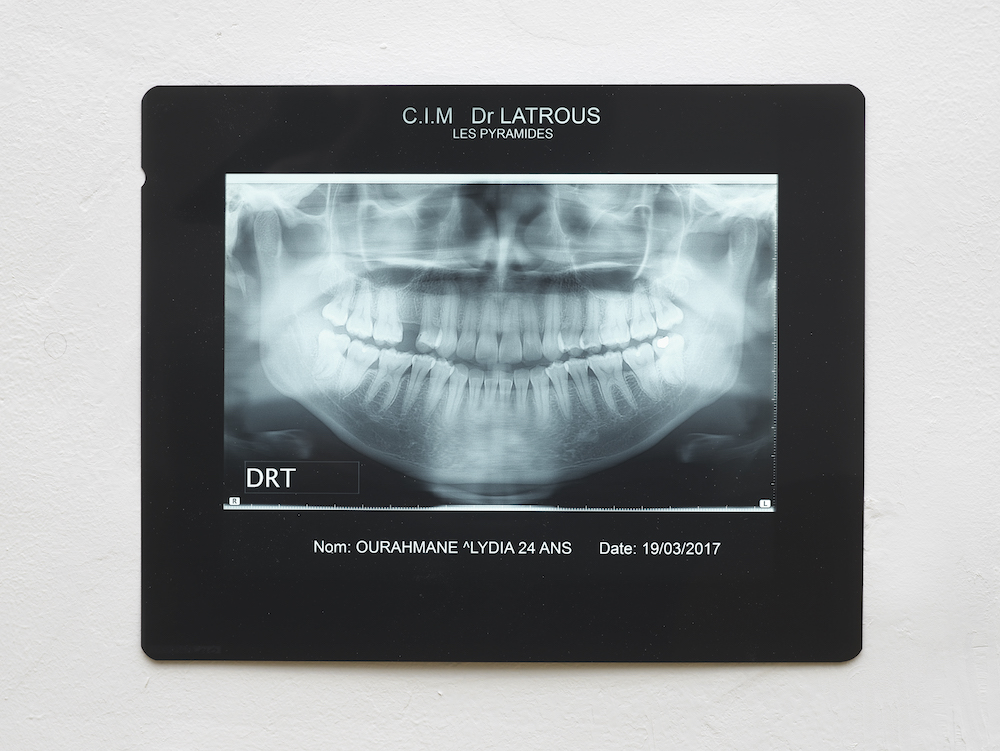 Artist website: lydiaourahmane.com
Image: In the Absence of Our Mothers, 2015-2018, X-ray scan, text, two 4.45g 18 karat gold teeth. Courtesy of the Artist and Chisenhale Gallery London. Photo: Andy Keate
Lydia Ourahmane (b. 1992, Algeria) lives and works in Algiers. Taking cues from everyday encounters, her work often addresses the usurpation and dislodgement in the socio-political framework. Her practice, which incorporates found objects, sculpture, video and sound, uses movement as an antithesis to the lack inferred by restriction as a mode of control.
Pictured here is 'The You in Us' (2018): a commission by Lydia Ourahmane at Chisenhale Gallery in London. The exhibition comprised of installation, sculpture and sound and continued her ongoing engagement with the emotional, psychological and political charge of material and place. Central to the show was a new sound work, Paradis (2018), which was embedded in and amplified through a temporary wooden floor installed throughout the gallery. This work combined audio from field recordings made by Ourahmane whilst in Oran with sound scores composed and performed by the artist and her collaborators.
Forthcoming exhibitions include Homeless Souls, Louisiana Museum of Modern Art, Copenhagen; Vies en Video, Museum of Modern Art, Algiers; Group Exhibition, Ca'Pesaro Museum of Contemporary Art, Venice; Solo Exhibition, Wattis Institute of Contemporary Art, San Francisco.