The Empty Project
Adelaide Cioni and Giuseppe De Mattia
with Lisa Andreani, Typhaine Delaup, Fabio Giorgi Alberti, Carlo Favero, Joana P.R. Neves and Nyla van Ingen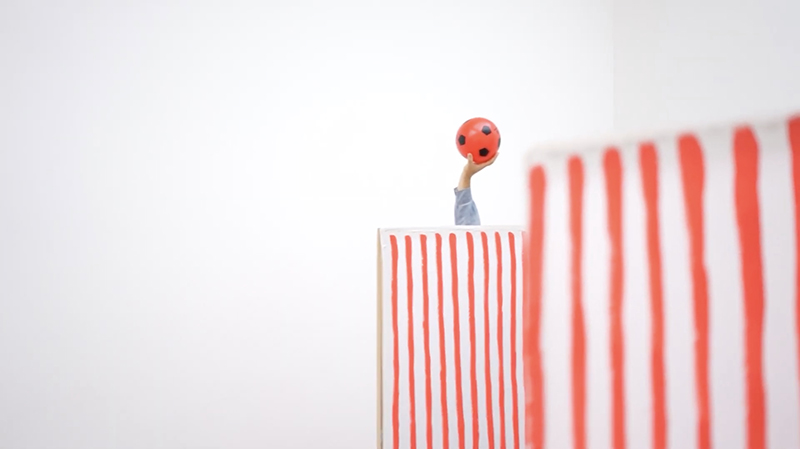 We hosted a second research and development workshop for The Empty Project, a collaboration between artists Adelaide Cioni and Giuseppe De Mattia, curators Joana P.R. Neves (Drawing Now) and Lisa Andreani (MACRO, Rome/Archivio Salvo, Turin), choreographer Typhaine Delaup, artist Fabio Giorgi Alberti (who will be making a film on the project), photographer Carlo Favero and composer and singer Nyla van Ingen. A first stage of the project was hosted by MAMbo, Bologna, in October 2020 and this was followed by workshops at the Mahler & LeWitt Studios in June and October 2021.
Adelaide and Giuseppe describe the work: "The Empty Project explores the relationship between playing and drawing. Starting from the two basic elements of drawing – the line and the point – it moves forward as an ongoing conversation amongst the participants and it has developed into a multilayered body of works and perspectives. In response to the global events of 2020, the project investigates issues to do with the fruition and documentation of art works, as well as collaboration and exchange at a time when physical presence is problematic. A sense of the body is at the core of the project, with regard to its performative aspects and our efforts to meet, in person, for the different stages of development at MAMbo and the Mahler & Lewitt Studios. The way the body is translated through documentation – in this case super8 film, analogue photography and a printed publication – is also a key concern."
Adelaide Cioni (Bologna, 1976) studied drawing at UCLA, Los Angeles, and holds a BA in Sculpture from the Academy of Fine Arts in Rome (2015). With an MA in contemporary history and a master's degree in Literary Translation, for ten years she translated American literature (John Cheever, David Foster Wallace, Lydia Davis, Richard Ford, AM Homes and several others). In 2012 she finished the translation of Cheever's journals and decided to quit translating literature in order to focus on her art. Her practice ranges from drawing to performance and she is particularly interested in using textiles as a material for making sculptures and paintings. In 2016 she moved to Umbria, and opened with Fabio Giorgi Alberti a project space and studio called "Franca". She is represented by P420 gallery, Bologna.
Giuseppe De Mattia (Bari, 1980) investigates the relationship between memory and contemporaneity by creating dialogues across different media. Photography, video, sound and drawing can all be found in his work. Alongside his personal practice, De Mattia collaborates with the collective Coclite/De Mattia and Casa a Mare (with Luca Coclite and Claudio Musso). He currently works with the Bologna film library and Home Movies – The national family film archive. He is represented by Matèria in Rome. He publishes his books with Corraini Editore, Danilo Montanari and Skinnerboox. In 2015 he created 'Libri Tasso' an independent artist book self-publishing project.
Dr Joana P. R. Neves is an independent curator and writer, currently co-curator of the international touring exhibition Blank, Irma Blank. She is Artistic Director of Drawing Now art fair, Paris, and co-founder of Worlding International Studio Residency and Project Space, London. Her upcoming project is a book titled The Female Drawing Machine. She obtained her PhD in art history at Kingston School of Art in 2020. Her thesis focused on the line and the trace emerging from scientific imagery of the nineteenth century and re-emerging in conceptual art's visual strategies and it proposed the new concept of the 'indexical line', a line connected with drawing and technology, with figurative imagery and abstract mark-making. Currently, she is interested in figuring out how conceptual uses of the line as universal, or neutral, engage – and if so how – with feminist, anti-imperialist thinking and making.
Lisa Andreani is a Rome based writer, curator and art critic. Her research is based on the idea of a "circular engagement" wherein architecture, design and contemporary art enter into dialogue with each other in a form of performative and transversal education. Together with these themes, the archive as object and subject constitutes a methodological tool from which she produces materials for her researches. Currently she is Curatorjal and Editorial Coordinator at MACRO – Museum of Preventive Imagination, directed by Luca Lo Pinto. In 2019 she completed the Global Modernism Studies research program at the Bauhaus Dessau Foundation. She was project manager for Romanistan, a project by the artist Luca Vitone and winner of the fourth edition of Italian Council. Since 2018 she works as an archivist and researcher for Archivio Salvo becoming part of its Scientific Committee. In 2019 she co-founded REPLICA, a project based on artist books.
Fabio Giorgi Alberti works with film and video, sculpture, words, performance and drawing to investigate language and the way we relate to reality. His works are defined by an ambiguous simplicity which raises questions about identity and the function of art itself. Born in Leiden, the Netherlands, and raised in Rome, in 2016 he moved to Umbria where he opened, with Adelaide Cioni, a project space and studio called "Franca" that hosts exhibitions and workshops. He has shown his work in independent spaces and institutions in Italy and abroad.
Typhaine Delaup is dancer and choreographer based in London. Her practice is based around improvisation. Her choreographic work has been presented in various venues and galleries in the UK, Italy, Norway, Belarus and The Netherlands. Her most recent project, Conducting with the Body, with Virginia Scuduletti, adapts the Soundpainting technique to create improvised power dynamics in live performance. Her other recent works are: Curiouser and Curiouser, and This is it. Delaup has worked as movement director for Martin Creed, Tom Lovelace, and JocJonJosch. As a performer she has collaborated with Marina Abramovic, Josiah McElheny, Pablo Bronstein, Tara D'arqiuan, Leila McMillan, and Vera Tussing, amongst others.
Carlo Favero (b. 1988, Treviso, based in Bologna) is a photographer working with artists, art galleries, museums, publishers and private collectors for art documentation and art work reproduction. He studied architecture and he's fascinated by space and relationships between objects, volumes, light and time. He's more interested in the situation he's photographing than in the object of the picture. His other projects include: Libri Tasso (with Giuseppe De Mattia and Eleonora Ondolati), an artists' books self-publishing project; and Marktstudio (with Giuseppe De Mattia, Eleonora Ondolati, Enrico Camprini and Federica Fiumelli), an independent art space inside a frame workshop in Bologna.
Nyla van Ingen was born in Montréal, Canada and graduated from the University of Toronto where she studied music. She has sung on stages from Tokyo to Tbilisi at illustrious venues including the Staatsoper Unter den Linden, the Tonhalle Zurich, the Berliner Ensemble and the Teatro dell'Opera in Rome and has worked, among others, with conductors Simone Young, Dennis Russel Davies, Michael Gielen and Giuseppe Sinopoli. In 2001 she became a member of German director Achim Freyer's Freyer Ensemble. Throughout her career she has collaborated with visual artists and curators contributing sound and music for exhibitions, performances and installations. Her most recent projects <open window> and >playlisten< bring sound art into the public and urban spaces.