Hana Noorali & Lynton Talbot
Curators in Residence,
with the Viaindustriae WORD PLAY open call
<<read information about the Open Call>>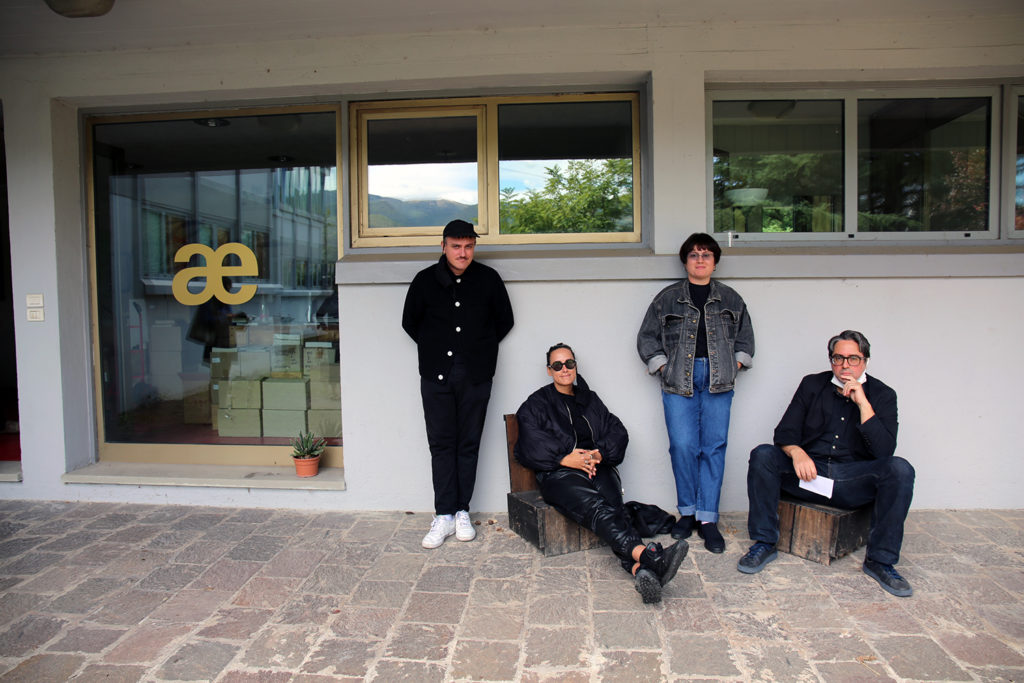 Pictured above, left to right: Lynton Talbot and Hana Noorali, Alice Mazzarella and Emanuele De Donno (Viaindustriae)
Curators Hana Noorali and Lynton Talbot were awarded the Viaindustriae and Mahler & LeWitt Studios 'Word Play: Art & Poetry' Open Call residency opportunity and took part in the 'Art & Poetry' residency session, curated by poet Rachael Allen in partnership with Viaindustriae, Foligno. The session brought together artists, writers and curators to explore the intersections of the visual and performing arts with poetry. Hana and Lynton were invited to explore the Viaindustriae Archive and De Donno Collection in relation to their own practice and the themes of the residency. In their introduction to the affiliated 'Art & Poetry' publication, Rachael and Guy Robertson (curator, Mahler & LeWitt Studios) write:
Hana Noorali and Lynton Talbot, who were awarded the Word & Play: Open Call opportunity, explored the inherent political and radical affiliations of the poetic, stemming from their research in Foligno on Futurism and a proposed relationship with the Italian left of the 1970s, in particular the work of Nanni Balestrini. They created an immersive audio-essay that incorporated work from Balestrini, as well as weather conditions around Spoleto and conversations with the other artists on the residency.
Their research is presented as part of Viaindustriae's LIBEROLIBRODARTISTALIBERO/FREEBOOK 10th biennial exhibition on artist's book practice. They also initiated a project called INTERPOLATIONS which, as they describe in the Open Studios information sheet reproduced below, involved inserting single-sheet artworks and writings by their fellow residents into books in the research libraries where they had been working.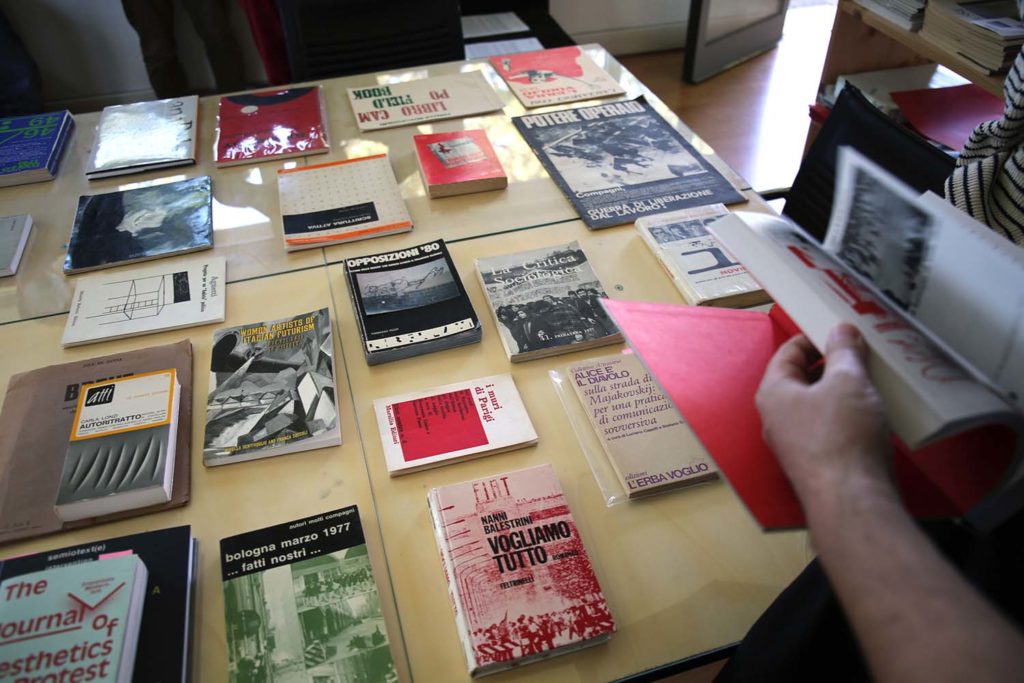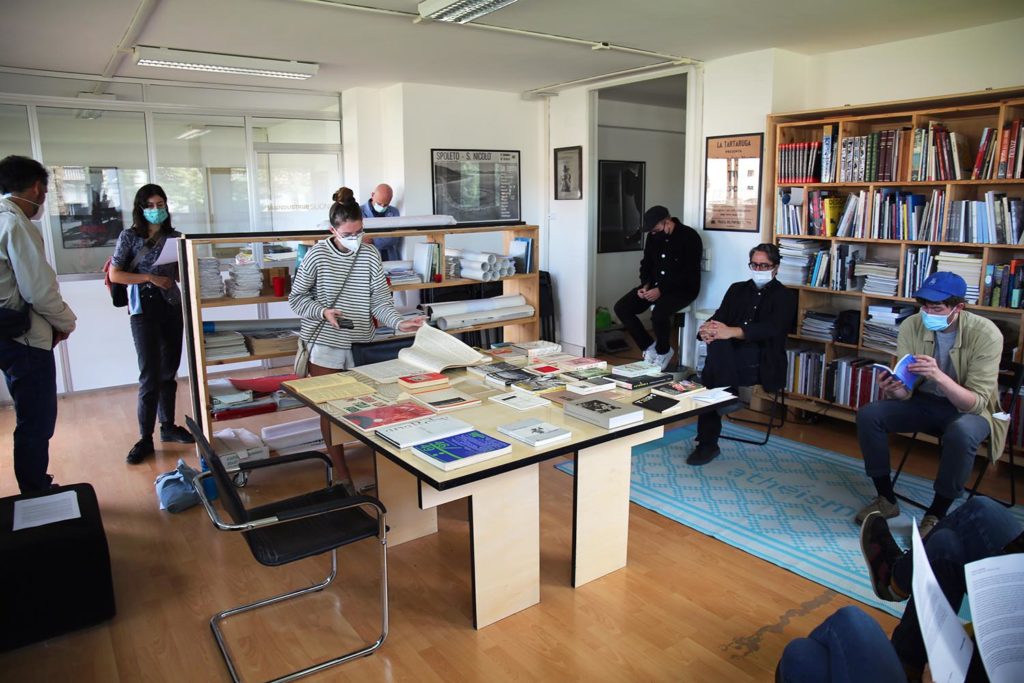 OPEN STUDIOS: SATURDAY 26 SEPTEMBER 2020, Viaindustriae, Foligno
In the offices of Viaindustriae in Foligno, curators Hana Noorali and Lynton Talbot present an audio-essay-in-progress which chronicles their current research in the De Donno Collection and the connected Viaindustriae Archives during the Mahler & LeWitt Studios 'Art & Poetry' residency session. Their essay focuses on the work of Nanni Balestrini (1935-2019), the Italian experimental poet, activist and visual artist.
"As a jumping in/off point we are looking at original futurist manifesto documents and looking at their claim to poetry and its relation to fascistic preoccupations. In line with our own existing research, we are looking, maybe attempting to map, where and how poetry has been both co-opted and nurtured through the future that the futurists called in. In this sense we are looking at early net.art archives here and considering the fact that poetry is absent from code, programming, communications technology, and many forms of communication and political / social relations now. The future arrived at the expense of poetry it seems, which leaves poetry with a fundamentally different task to that which the futurists expected or demanded it had and one that feels more urgent than ever. Identifying the work of Nanni Balestrini, his interest in early computer technology and poetry as well as his well-documented affiliations with activists of the Marxist-Autonomists such as Franco 'Bifo' Berardi, we are trying to build an inter-textual, diffractive account of poetry's changing role within the political imaginary. We will do this in an audio collage of our visits, readings, translations, interjections, footnotes and field recordings during our time here."
Alongside this audio-essay-in-progress, Lynton and Hana have placed the work of their fellow residents inside the reading materials they have been working with. The curatorial intervention of these loose-leaf works on paper, fugitively accessioned into the various libraries associated with the residency programme, are understood as interpolations and will reside quietly in the De Donno Collection, Viaindustriae Archive in Foligno, and the Mahler & LeWitt Studios libraries in Spoleto until future readers encounter the work by chance.
"It is hoped that these incidental encounters with artworks and poems, as respectful engagements with different disciplinary practices, will offer the reader a chance to examine the boundaries between strands of thought and consider how they might be re-imagined so as to foster new readings and new typographies of meaning. These interpolations may produce a space of radical imagining and give shape to the intervals and interstices of knowledge that are, according to Foucault the 'phenomenon of the library'"."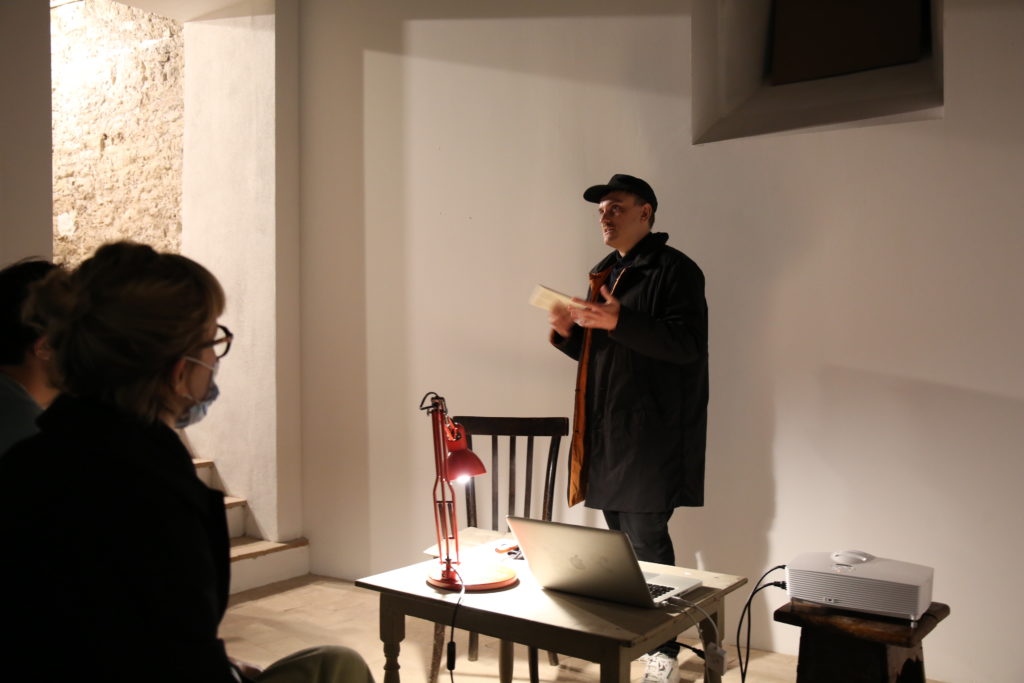 Biography Hana and Lynton work as a curatorial duo and for the past decade have principally been concerned with artists that work with language as material. In this context they describe their practice: "As curators we recognise that in art as in poetry, meaning is made in the very conditions of the encounter itself. The knowledge produced is not instructive or codified but subjective and relational. Artists build the worlds that viewers may inhabit temporarily in the moment of their becoming. The physicality of these temporary utopia's, however, is so frequently realised in the increasingly contested spaces of our museums and galleries. We are interested in ways poetry, and the world it is capable of building outside of these normative structures, might be the most constitutive form of all. In our practice, working with language is understood as a gesture toward a truly radical reimagining." Their recent exhibition at David Roberts Art Foundation (London, UK), The Season of Cartesian Weeping (title lent by Anne Boyer from her 2018 collection, A Handbook of Disappointed Fate), presented artist collectives who explore the role language plays in maintaining a discrepant resistance to institutions; a resistance that does not seek to evade complicity but rather foster a radical complicity based on shared practice.
They are currently co-editing, with Jess Chandler and Aimee Selby, Intertitles – an anthology at the intersection of poetry and visual art; the editors describe the project as a response to two observations, "namely the increased presence of written, spoken and performed language in the work of visual artists and the simultaneous increase in visibility and circulation of the work and voices of poets in the visual arts arena." It will be published by Prototype in early 2021.
Lynton's curatorial platform parrhesiades works with artist for whom language — either written, spoken or otherwise performed — is an essential part of their practice. Parrhesiades develops a single new work with artists that exists across multiple platforms; a distributed or exploded model for exhibition that offers artists different physicalities and temporalities to work through, problematising a single reading of the work. Parrhesiades has worked with Johanna Hedva, Cally Spooner, Sung Tieu, Jesper List Thomsen, Eva Gold, Elaine Cameron-Weir and Quinn Latimer in year one, culminating in Volume 1, a book published as part of the exhibition series in 2020. Volume 2 will include new work by Tai Shani, Anais Duplan, Isabel Waidner, Caspar Heinemann and Sophie Jung among others.
Lynton also writes specifically with artists and for exhibitions as a form of curatorial practice. He holds academic posts at Chelsea College of Arts and Kings College London in their curatorial departments and works within Tate Public Programmes to deliver Museum Curating Now. He has been a visiting lecturer at RCA and Goldsmiths, London, Kunsthochschule, Kassel and WHW Akademija, Zagreb. He is also a sometime participant in OFFSHORE, an itinerant performance company and pedagogical structure, initiated by Cally Spooner in 2017.
Hana Noorali started TRANSMISSIONS in 2020 with fellow curator Anne Duffau and artist Tai Shani. TRANSMISSIONS is an online platform for commissioning artists in a classic DIY TV format. She curated Lisson Presents at Lisson Gallery, London, from 2017 to 2018 and from 2017 to 2019 she wrote, produced and presented the podcast series Lisson on air. In 2018 Hana edited a monograph on the work of artist and Benedictine monk Dom Sylvester Houédard. Its release coincided with an exhibition of his work at Lisson Gallery, New York, which she co-curated with Matt O'Dell. Currently, Hana is a freelance writer and visiting lecturer at a number of UK institutions.
Hana and Lynton have started non-profit galleries in both London and Berlin and have curated exhibitions in public institutions, project spaces and commercial galleries across London and internationally, they often collaboratively produce text and have also taught together in a number of contexts. Forthcoming projects include a project with Galerija Prozori and WHW, Zagreb.